Readings:
This commemoration is a 2018 addition to A Great Cloud of Witnesses.
Return to Lectionary Home Page
Webmaster: Charles Wohlers
Last updated: 24 Nov. 2018
SATAKO KITAHARA
MINISTER TO THE ILL, DISPLACED, AND ORPHANED (23 JAN 1958)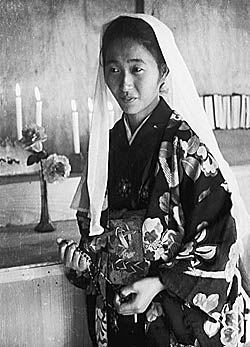 Satoko Kitahara (22 August 1929 – 23 January 1958) - later known as Elisabeth Maria - was a Japanese Roman Catholic. Kitahara was descended from aristocrats and samurai warriors; she worked in an airplane warehouse during World War II and became disillusioned after she and others learnt of Japanese atrocities during the conflict. But she soon discovered Roman Catholicism and after a period of being exposed to churches decided to learn catechism so she could be baptized.
Upon her baptism she selected the name "Elisabeth" but upon her Confirmation added the name "Maria". Kitahara made it her goal to tend to the impoverished and orphaned as well as the sick and poor who were suffering as a result of the damage inflicted during the war. In 1950 she first met the Conventual Franciscan friar Zenon Żebrowski and the two worked together to care for destitute people and children in the riverside Ants Village. This work became the focus for Kitahara's life until she died from tuberculosis in 1958.
more at Wikipedia