Readings:
This commemoration is a 2018 addition to A Great Cloud of Witnesses.
Return to Lectionary Home Page
Webmaster: Charles Wohlers
Last updated: 17 Nov. 2018

MAURUS AND PLACIDUS
DISCIPLES OF ST. BENEDICT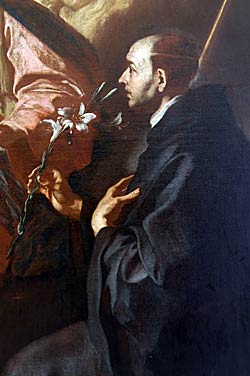 Maurus was born c. 510, the son of Equitius, a nobleman of Rome. At the age of about twelve, Maurus was sent to the care of St. Benedict at Subiaco to be educated. Gregory the Great in the Dialogues relates an account wherein the young oblate Placidus, when sent to fetch water from the lake, was carried away by the current. Back at the monastery, Benedict realized this and directed Maurus to run and save the boy. Maurus did not realize that, in his haste to reach Placidus, he had run out upon the water. After bringing Placidus back to shore, Maurus attributed the miracle to the prayers of St. Benedict; the abbot, to his disciple's obedience.
Maurus was ordained a deacon, and subsequently, Benedict, prior to leaving for Monte Cassino, appointed him coadjutor at Subiaco. During his tenure, various miraculous cures were attributed to his prayers.Around 528, Benedict summoned Maurus to join him at Monte Cassino.
Around 543, Innocentius, the Bishop of Mans, sent his vicar, Adenard, to Monte Cassino to request Benedict to send some monks to Gaul. Maurus was dispatched and, during the journey, obtained a number of cures for the sick and injured encountered along the way. Through the generosity of King Theudebert, he founded Glanfeuil Abbey, which he governed for many years. He resigned the abbacy in 581 to spend the remainder of his life in solitude and prayer. The abbey of Glanfeuil, was later called St. Maur-sur-Loire. Maurus died at Glanfeuil Abbey 15 January 584.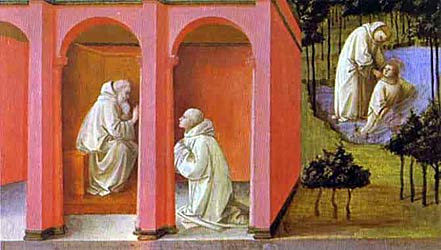 St. Benedict with Maurus, and Maurus saving Placidus
Placidus was the eldest son of the patrician Tertullus. When he was about eight years old, his father placed him under the care of St. Benedict at Subiaco, to be educated. It appears certain that he accompanied Saint Benedict when, about 529, he removed to Monte Cassino, which was said to have been made over to him by the father of Placidus.
Of his later life nothing is known, but in an ancient psalterium at Vallombrosa his name is found in the Litany of the Saints placed among the confessors immediately after those of Saint Benedict and Saint Maurus; the same occurs in Codex CLV at Subiaco, attributed to the ninth century.