This commemoration was approved at General Convention 2018, and will appear in a future edition of A Great Cloud of Witnesses.
Return to Lectionary Home Page
Webmaster: Charles Wohlers
Last updated: 17 Sept. 2018
GREGORY PALAMAS
THEOLOGIAN, 1357/59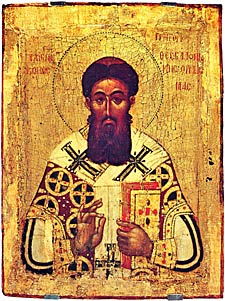 Gregory Palamas (c. 1296 – 1357 or 1359) was a prominent theologian and ecclesiastical figure of the late Byzantine period. A monk of Mount Athos (modern Greece) and later archbishop of Thessaloniki, he is famous for his defense of hesychast spirituality, the uncreated character of the light of the Transfiguration, and the distinction between God's essence and energies (i.e., the divine will, divine grace, etc.).
Hesychasm is a mystical tradition of contemplative prayer in the Eastern Orthodox Church. Based on Jesus's injunction in the Gospel of Matthew that "when thou prayest, enter into thy closet, and when thou hast shut thy door, pray", hesychasm in tradition has been the process of retiring inward by ceasing to register the senses, in order to achieve an experiential knowledge of God.
Hesychasm attracted the attention of Barlaam, an Italian convert to Eastern Orthodoxy. Trained in Western Scholastic theology, Barlaam was scandalized by hesychasm and began to combat it both orally and in his writings. Barlaam propounded a more intellectual and propositional approach to the knowledge of God than the hesychasts taught. Eventually, three Orthodox synods at Constantinople in 1341 and 1351 ruled against him and in Palamas's favor.
- more at Wikipedia