Readings:
Preface of a Saint (1)
[Common of a Pastor]
[Common of a Prophetic Witness]
[For Prophetic Witness in the Church]
[For Reconciliation and Forgiveness]

PRAYER (traditional language)
Set us free, O heavenly Father, from every bond of prejudice and fear: that, honoring the steadfast courage of thy servant Absalom Jones, we may show forth in our lives the reconciling love and true freedom of the children of God, which thou hast given us in our Saviour Jesus Christ, who liveth and reigneth with thee and the Holy Spirit, one God, now and for ever.
PRAYER (contemporary language)
Set us free, heavenly Father, from every bond of prejudice and fear: that, honoring the steadfast courage of your servant Absalom Jones, we may show forth in our lives the reconciling love and true freedom of the children of God, which you have given us in our Saviour Jesus Christ, who lives and reigns with you and the Holy Spirit, one God, now and for ever.

This commemoration appears in Lesser Feasts & Fasts 2018 with revised lessons & collects.
Return to Lectionary Home Page
Webmaster: Charles Wohlers
Last updated: 12 December 2020

ABSALOM JONES
PRIEST (13 FEB 1818)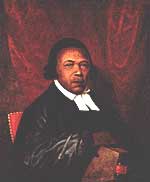 In 1786 the membership of St. George's Methodist Episcopal Church in Philadelphia included both blacks and whites. However, the white members met that year and decided that thereafter black members should sit only in the balcony. Two black Sunday worshippers, Absalom Jones (1746-1818) and Richard Allen (1760-1831), whose enthusiasm for the Methodist Church had brought many blacks into the congregation, learned of the decision only when, on the following Sunday, ushers tapped them on the shoulder during the opening prayers, and demanded that they move to the balcony without waiting for the end of the prayer. They walked out, followed by the other black members.
Absalom Jones conferred with William White, Episcopal Bishop of Philadelphia, who agreed to accept the group as an Episcopal parish. Jones would serve as lay reader, and, after a period of study, would be ordained and serve as rector. Allen wanted the group to remain Methodist, and in 1793 he left to form a Methodist congregation. In 1816 he left the Methodists to form a new denomination, the African Methodist Episcopal Church (AME). Jones (ordained deacon and priest in 1795 and 1802) and Allen (ordained deacon and elder in 1799 and 1816) were the first two black Americans to receive formal ordination in any denomination. (So I am told by my Episcopal source. On the other hand, a Baptist correspondent tells me of the earlier ordination of a black American to the Baptist ministry. Perhaps my first source either did not know of this, or did not consider the Baptist ordination to be "formal." This is not a question of snobbery. Some congregations I know simply ask someone who they think is a good speaker to be their preacher for a year, and there is no ceremony beyond the vote and his saying, "I accept.")
The African Methodist Episcopal Church Zion (AME Zion) formed in New York in about 1796 for similar reasons. The two groups were well organized before they heard of each other. The Christian Methodist Episcopal Church, also historically black, was an offshoot in 1870 of the Methodist Episcopal Church, South. (The Methodists split into North and South before the War of 1861-1865, and have since re-united.) These three black groups, and the United Methodist Church, and some other denominations of Methodist origin, are committed in principle to eventual union, but bureaucracies move slowly. Meanwhile, the groups are united in doctrine, and members of each are free to worship and to receive the Sacraments with members of the others.
by James Kiefer

Absalom Jones' autobiographical sketch from Douglass' Annals (1862):
The following narrative is copied from the original manuscript written by himself:
"I, Absalom Jones was born in Sussex," DEL., "on the 6th of November, 1746. I was small, when my master took me from the field to wait and attend on him in the house; and being very fond of learning, I was careful to save the pennies that were given to me by the ladies and gentlemen from time to time. I soon bought myself a primer, and begged to be taught by any body that I found able and willing to give me the least instruction. Soon after this, I was able to purchase a spelling book; for as my money increased, I supplied myself with books, among others, a Testament. For, fondness for books, gave me little or no time for the amusements that took up the leisure hours of my companions. By this course I became singular, and escaped many evils, and also saved my money.
In the year 1762, my mother, five brothers and a sister were sold, and I was brought to the city of Philadelphia with my master. My employment in this city was to wait in the store, pack up and carry out goods. In this situation, I had an opportunity, with the clerk, to get copies set for me; so that I was soon able to write to my mother and brothers, with my own hand. My spelling is bad for want of proper schooling.
In the year 1766, I asked my master the liberty of going one quarter to night-school, which he granted. I had a great desire to learn Arithmetic. In that quarter I learned Addition, Troy weight, Subtraction, Apothecaries' weight, Practical multiplication, Practical Division, and Reduction.
In the year 1770, I married a wife who was a slave. I soon after proposed to purchase her freedom. To this her mistress agreed, for the sum of forty pounds. Not having the money in hand, I got an appeal drawn, and John Thomas, my father-in-law, and I called upon some of the principal Friends of this city. From some we borrowed, and from other we received donations. In this way we soon raised thirty pounds of the money, her mistress, Sarah King, forgiving the balance of ten pounds. By this time, my master's family was increased, and I was much hurried in my servitude. However, I took a house, and for seven years, made it my business to work until twelve or one o'clock at night, to assist my wife in obtaining a livelihood, and to pay the money that was borrowed to purchase her freedom.
This being fully accomplished, and having a little money in hand, I made application to my master, in the year 1778, to purchase my own freedom; but, as this was not granted, I fortunately met with a small house and lot of ground, to be sold for one hundred and fifty pounds, continental money. Having laid by some hard money, I sold it for continental and purchased the lot. My desire for freedom increased, as I knew that while I was a slave, my house and lot might be taken as the property of my master. This induced me to make many applications to him for liberty to purchase my freedom; and on the first of October, 1784, he generously gave me a manumission. I have ever since continued in his service at good wages, and I still find it my duty, both late and early, to be industrious to improve the little estate that a kind Providence has put in my hands.
Since my freedom, I have built a couple of small houses on the small lot, which now let for twenty-two pounds a year."
*Annals of the first African church, in the United States of America: now styled the African Episcopal church of St. Thomas, Philadelphia, in its connection with the early struggles of the colored people to improve their condition, with the co-operation of the Friends, and other philanthropists; partly derived from the minutes of a beneficial society, established by Absalom Jones, Richard Allen and others, in 1787, and partly from the minutes of the aforesaid church
William Douglass
January 1, 1862
King & Baird, printers