Readings:
Preface of a Saint (1)
[Common of a Pastor]
[Common of a Prophetic Witness]
[For Prophetic Witness in the Church]
[For Reconciliation and Forgiveness]

PRAYER (traditional language)
Set us free, O heavenly Father, from every bond of prejudice and fear: that, honoring the steadfast courage of thy servant Absalom Jones, we may show forth in our lives the reconciling love and true freedom of the children of God, which thou hast given us in our Saviour Jesus Christ, who liveth and reigneth with thee and the Holy Spirit, one God, now and for ever.
PRAYER (contemporary language)
Set us free, heavenly Father, from every bond of prejudice and fear: that, honoring the steadfast courage of your servant Absalom Jones, we may show forth in our lives the reconciling love and true freedom of the children of God, which you have given us in our Saviour Jesus Christ, who lives and reigns with you and the Holy Spirit, one God, now and for ever.

This commemoration appears in Lesser Feasts & Fasts 2018 with revised lessons & collects.
Return to Lectionary Home Page
Webmaster: Charles Wohlers
Last updated: 18 December 2021

ABSALOM JONES
PRIEST (13 FEB 1818)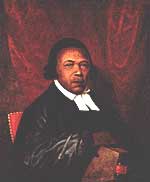 In 1786 the membership of St. George's Methodist Episcopal Church in Philadelphia included both blacks and whites. However, the white members met that year and decided that thereafter black members should sit only in the balcony. Two black Sunday worshippers, Absalom Jones (1746-1818) and Richard Allen (1760-1831), whose enthusiasm for the Methodist Church had brought many blacks into the congregation, learned of the decision only when, on the following Sunday, ushers tapped them on the shoulder during the opening prayers, and demanded that they move to the balcony without waiting for the end of the prayer. They walked out, followed by the other black members.
Absalom Jones conferred with William White, Episcopal Bishop of Philadelphia, who agreed to accept the group as an Episcopal parish. Jones would serve as lay reader, and, after a period of study, would be ordained and serve as rector. Allen wanted the group to remain Methodist, and in 1793 he left to form a Methodist congregation. In 1816 he left the Methodists to form a new denomination, the African Methodist Episcopal Church (AME). Jones (ordained deacon and priest in 1795 and 1802) and Allen (ordained deacon and elder in 1799 and 1816) were the first two black Americans to receive formal ordination in any denomination. (So I am told by my Episcopal source. On the other hand, a Baptist correspondent tells me of the earlier ordination of a black American to the Baptist ministry. Perhaps my first source either did not know of this, or did not consider the Baptist ordination to be "formal." This is not a question of snobbery. Some congregations I know simply ask someone who they think is a good speaker to be their preacher for a year, and there is no ceremony beyond the vote and his saying, "I accept.")
The African Methodist Episcopal Church Zion (AME Zion) formed in New York in about 1796 for similar reasons. The two groups were well organized before they heard of each other. The Christian Methodist Episcopal Church, also historically black, was an offshoot in 1870 of the Methodist Episcopal Church, South. (The Methodists split into North and South before the War of 1861-1865, and have since re-united.) These three black groups, and the United Methodist Church, and some other denominations of Methodist origin, are committed in principle to eventual union, but bureaucracies move slowly. Meanwhile, the groups are united in doctrine, and members of each are free to worship and to receive the Sacraments with members of the others.
by James Kiefer

Bio as proposed to the 2022 General Convention:
Absalom Jones was born enslaved to Abraham Wynkoop, a wealthy Anglican planter in 1746 in Delaware. He was working in the fields when Abraham recognized that he was an intelligent child and ordered that he be trained to work in the house. Absalom eagerly accepted instruction in reading. He also saved money he was given and bought books (among them a primer, a spelling book, and a bible). Abraham Wynkoop died in 1753, and by 1755 his younger son Benjamin had inherited the plantation. When Absalom was sixteen, Benjamin Wynkoop sold the plantation and Absalom's mother, sister, and five brothers. Wynkoop brought Absalom to Philadelphia, where he opened a store and joined St. Peter's Church. In Philadelphia, Benjamin Wynkoop permitted Absalom to attend a night school for black people operated by Quakers following the tradition established by abolitionist teacher Anthony Benezet.
At twenty, with the permission of their masters, Absalom married Mary Thomas, who was enslaved to Sarah King, who also worshipped at St. Peter's. The Rev. Jacob Duche performed the wedding at Christ Church. Absalom and his father-in-law, John Thomas, used their savings and sought donations and loans primarily from prominent Quakers, in order to purchase Mary's freedom. Absalom and Mary worked very hard to repay the money borrowed to buy her freedom.
They saved enough money to purchase property and to buy Absalom's freedom. Although he repeatedly asked Benjamin Wynkoop to allow him to buy his freedom, Wynkoop refused. Absalom persisted because as long as he was enslaved, Wynkoop could take his property and his money. Finally, in 1784, Benjamin Wynkoop freed Absalom by granting him a manumission. Absalom continued to work in Wynkoop's store as a paid employee.
Absalom left St. Peter's Church and began worshipping at St. George's Methodist Episcopal Church. He met Richard Allen, who had been engaged to preach at St. George's, and the two became lifelong friends. Together, in 1787, they founded the Free African Society, a mutual aid benevolent organization that was the first of its kind organized by and for black people. Members of the Society paid monthly dues for the benefit of those in need. At St. George's, Absalom and Richard served as lay ministers for the black membership. The active evangelism of Jones and Allen significantly increased black membership at St. George's. The black members worked hard to raise money to build an upstairs gallery intended to enlarge the church. The church leadership decided to segregate the black worshippers in the gallery without notifying them. During a Sunday morning service, a dispute arose over the seats black members had been instructed to take in the gallery. The ushers attempted to physically remove them by first accosting Absalom Jones. Most of the black members present indignantly walked out of St. George's in a body.
Prior to the incident at St. George's, the Free African Society had initiated religious services. Some of these services were presided over by The Rev. Joseph Pilmore, an assistant at St. Paul's Episcopal Church. The Society established communication with similar black groups in other cities. In 1792 the Society began to build the African Church of Philadelphia. The church membership took a denominational vote and decided to affiliate with the Episcopal Church. Richard Allen withdrew from the effort as he favored affiliation with the Methodist Church. Absalom Jones was asked to provide pastoral leadership, and after prayer and reflection, he accepted the call.
The African Church was dedicated on July 17, 1794. The Rev. Dr. Samuel Magaw, rector St. Paul's Church, preached the dedicatory address. Dr. Magaw was assisted at the service by The Rev. James Abercrombie, assistant minister at Christ Church. Soon thereafter, the congregation applied for membership in the Episcopal Diocese of Pennsylvania on the following conditions: 1) that they would be received as an organized body; 2) that they would have control over their local affairs; 3) that Absalom Jones would be licensed as lay reader, and, if qualified, be ordained as a minister. In October 1794, it was admitted as the African Episcopal Church of St. Thomas. The church was incorporated under the laws of the Commonwealth of Pennsylvania in 1796. Bishop William White ordained Jones as deacon in 1795 and as priest on September 21, 1802.
Jones was an earnest preacher. He denounced slavery and warned the oppressors to "clean their hands of slaves." To him, God was the Father, who always acted on "behalf of the oppressed and distressed." But it was his constant visiting and mild manner that made him beloved by his congregation and by the community. St. Thomas Church grew to over 500 members during its first year. The congregants formed a day school and were active in moral uplift, self-empowerment, and anti-slavery activities. Known as "the Black Bishop of the Episcopal Church," Jones was an example of persistent faith in God and in the Church as God's instrument. Jones died on this day in 1818.