Sundays:
8AM: Eucharist, no music
9:30AM: Eucharist, Christian Education; mix of traditional and contemporary music
All sevices follow Rite II (contemporary language) Eucharist of the Episcopal Book of Common Prayer. The early, 8AM service is fairly quiet and formal, and the 9:30AM is less so.
Christian Education for nursery through grade 12 is held at 9:30 during the school year. Grades 2 and above join us for Eucharist.
The last Sunday of each month we have a breakfast between the 8 and 9:30 services in the parish hall.
On Wednesday there are also services of Holy Eucharist with healing at noon and 6:30PM. The early service is preceeded by a Bible Study at 10:30, and the later service is followed by a Bible Study at 7.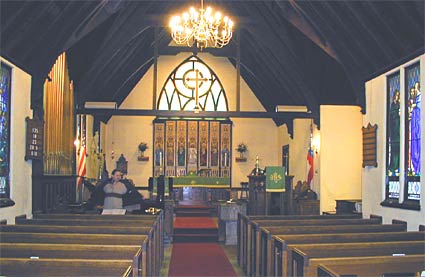 Our organist prepares for a service.


If you're not familiar with the Episcopal Church, the text of the Rite II Eucharist is online (note that this is a PDF, or Adobe Acrobat file). If you've ever been to a Roman Catholic service, you'll find that the Episcopal Eucharist is very similar to the Roman Catholic mass.

Since this is a Eucharist, Communion is a central part of the service. In the Episcopal Church, all baptised Christians are welcome and encouraged to participate fully. Both bread and wine are used, and these are normally received kneeling at the altar rail (however, if physical problems or other reasons prevent you either from kneeling or coming to the altar, or if you wish to receive just the bread, we will accommodate you — you won't be the only one).

If at any time you feel a little lost during the service, someone will help you out. Remember that most of us at All Saints weren't born Episcopalians, so the person sitting next to you was likely in the same position you are once upon a time.

Coffee Hour in the parish hall follows the 9:30 service. All Saints is handicap accessible.