About Me, Milo T. Hedgehog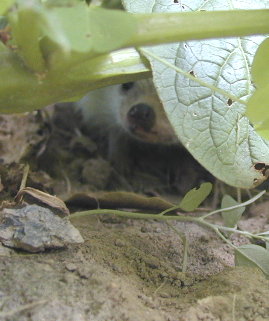 A little about me. I'm an African Pygmy hedgehog, born July 22, 1996. Although my ancestors are from Africa, my family has lived here in the United States for generations. I enjoy tunnels and burrows, mealworms, my garden, and watching the antics of my family of pet humans.
If you'd like to learn more about my relatives and my interests, here are some links:
Hedgies
"The Hedge of Night," an article from HomeArts about hedgehogs and their people. Includes a hedgie video.
Mealies
Tunnels and burrows
---
Milo thanks Lee Ferry for help in creating this page. Lee and Milo can be contacted at
Milo@satucket.com
Page revised July 17, 2000.
This page is http://web.simmons.edu/~wohlers/milo.html
Simmons Disclaimer